Terraces of acacia wood are comparative alternative to teak wood and other exotic wood. They are much more cheaper. Acacia is our central european wood with exterme lifetime. Of our wood it is the hardest and flexible. Therefore it is very suitable to terrace in exterior.
---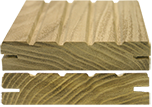 Terrace of acaia wood in modern architecture are mostly used as pass between interior and garden, e.g. terrace by family houses where we pass the most of our free time in summer. With its look and qualities they are unmistakable part to nowadays used artificial terraces. Our opinion is that artificial terraces do not belong to gardens. It is true that wooden terraces need to paint but after the treatment your terrace will look always like new. Many architects prefer to grey out the wood.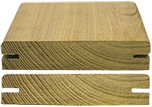 Terrace of acacia wood are also suitable to plain roofs of the houses, balconies, swimming pools areas, stairs, bridges and others. Terrace decks are made so that defects are cut out and continually joined in length extreme polyurethane glue, which is used for frameworks. The glue is not inferior to climatic conditions in exterior. The company guarantee strength and quality of the join by thestrength certificate. By the technology of join in length the shape stability of our terraces is secured, which cannot be said about the decks of exotic wood.
Acacia terrace decks are delivered in these sizes thickness 20 mm × width 90 mm × length max. 4000 mm. Length of the decks is delivered according to customer´s requirement which means that there is no off-cut.

To these we also deliver accacia prisms to grid in these sizes
thickness 

20 mm × 

width

 

40 mm × 

length

 

max. 4000 mm

thickness 

40 mm × 

width

 

40 mm × 

length

 

max. 4000 mm 

thickness 

60 mm × 

width

 

40 mm × 

length

 

max. 4000 mm
We also deliver joinig material (stainless) which is used to clamping in spaces (also called not visible), or stainless screws used for clamping from the top. We also deliver oil to surface finish and we aslo provide fitting of acacia terrace.
---
---